English
Our Curriculum
The National Curriculum sets out what pupils should be taught and attainment targets set out the expected standards of pupils' performance. It is for schools to choose how they organise their school curriculum to include the programmes of study.
Please follow this link: please click here
Milestones for writing
Milestones for reading
Helping your child at home with writing.
St Patrick's Reading Scheme
Here at St. Patrick's we place a great focus on Reading. We are very lucky to have such a super library and resources and believe that one of the most important gifts our school can give a child is the power to read. As you may be aware each year group change reading books and listen to children read differently, this could be listening to your child read individually or as a group in guided reading. This is due to the age and reading ability of your child. Our approach and commitment to reading is the same across the school but the frequency in which books are changed does differ from year group to year group.
Range of Oxford reading books include, Floppy Phonics, Traditional Tales, Project X and Treetops.All these books are colour coded to ensure progression through the reading scheme.
Foundation Stage -Children are allocated one book per week, as well as their Read Write Inc phonics sounds to learn. Each reading book, either a wordless book or one with text, encourage discussion and book talk, as well as activities to enjoy with your child to foster a love of books and early reading skills. Parents are asked to comment in their child's reading diary about a discussion you may have had about the book, how they read the text or any activities they have attempted that have originated from the book.
Key Stage One – Children use the colour banded books so they can progress through the reading scheme. Children change their books on a regular basis when they have finished reading that book. When sharing a book at home or at school, children need to discuss the title, illustrations and read the text. Book talk is extremely important so that children demonstrate understanding of the text and have the opportunity to ask and answer questions. Parents are asked to comment in their child's reading diary when they share a book together at home. At times your child may receive a book they have had previously – this may be for consolidation of skills, understanding themes or text types or for enjoyment. Year 2 are encouraged to choose their own books from their reading level band and at some point through the year will bring a library book home for additional reading. All year groups are asked to bring their reading books to school with their reading diary every day.
Key Stage 2 Each year group will be listened to at least once a week in guided reading– this involves children reading and discussing a text in small groups with a teacher or teaching assistant for a minimum of half an hour. In addition, children read individually at least once a week, as a daily activity in free flow to teachers, TAs or volunteer reading partners. It is important that we still hear our KS2 children read and take opportunities to discuss their texts in order to develop their higher level reading and comprehension skills. The teachers will make comments in the child's reading diary and therefore ask parents to do the same. For the majority of children in KS2 they will be on a colour band, this is matched to their ability. Within each colour band is a wide range of texts and genres as well as a range of texts of varying difficulty. On the whole the children are given the freedom to choose books that they think they will enjoy – therefore some books may seem harder or easier than others. Teachers will keep an eye on the texts chosen to ensure that your child is being challenged. We also encourage children to bring in books, magazines, comics etc from home. Magazines and comics can often encourage reluctant readers and give children confidence to read for pleasure. Each year group is scheduled to visit the library once a week; however the library will be open every lunchtime for children to change their books or for quiet reading time. Child friendly newspapers are also available in the classrooms and library.
Children choosing a book to read from our reading scheme.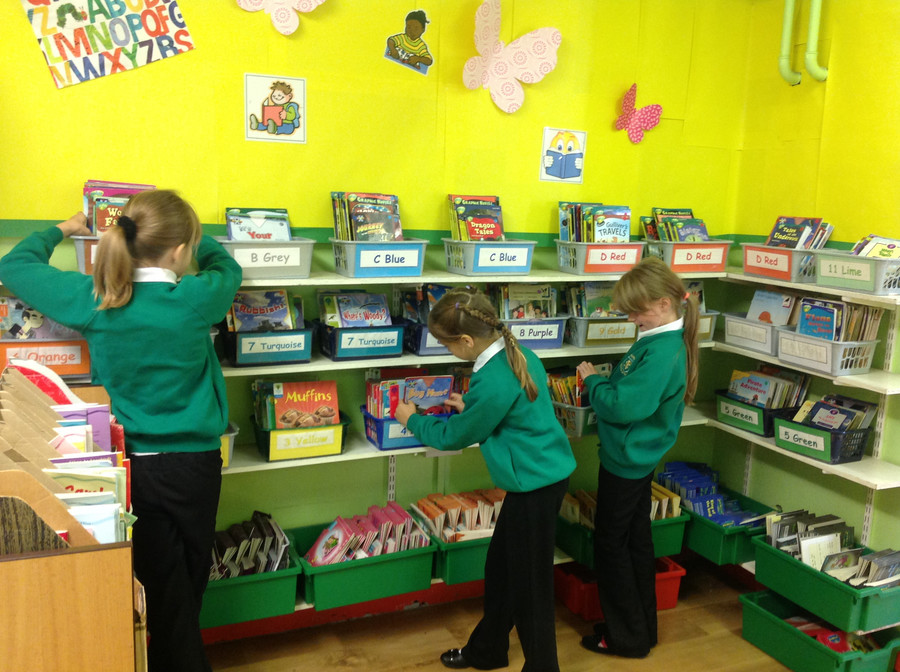 Below are some useful documents to help your children
Romero Progression document ..This will help you see the progression in writing throughout the school.
Useful websites to help your child in phonics and sentence work
Click here for phonics
Click here for sentence doctor
Click here for KS 2 phonics
Ruth Miskin's 'Read Write Inc.' At St. Patrick's Primary School
At St. Patrick's we have taken the very important decision to adopt the" Read, Write Inc." Phonics programme written by Ruth Miskin. We are dedicated to ensuring that each and every one of our children learn to read with accuracy and confidence. We believe that the Read, Write Inc. programme will allow us to do this, as well as allowing us to support you in fostering a love of reading in your child that will last a lifetime!
At the core of the programme is the lively and vigorous teaching of synthetic phonics. Children learn the 44 common sounds in the English language and how to sound-blend words for reading (decoding) at the same time as developing handwriting skills and spelling (encoding). As their confidence in decoding develops they are taught to comprehend and compose ideas for their own writing. The children have the pleasure of reading exciting storybooks perfectly matched to their level – so that they have early success in reading!
The children follow a structured programme of reading and writing activities in groups of up to 12. The majority of staff have been trained in the delivery of this programme. It is a programme designed for children to complete as soon as possible. It begins in the Foundation Stage and once your child is reading at a level 2a they will have completed the programme.
Read, Write Inc. has 5 underlying principles – the five Ps
PACE – no time is wasted during teaching sessions! Children are active and involved in a fun and creative way. The aim is for the children to complete the programme as quickly as possible.

PRAISE – teachers praise the children constantly throughout the teaching sessions. Children learn more quickly when they are praised for what they do well, rather than nagged for what they do wrong. The children are encouraged to praise each other and as a school we have developed several 'Praise Phrases' and 'Praise actions'! Ask your child to demonstrate!

PURPOSE – each activity has a very clear purpose. The teacher will set this purpose at the beginning of the lesson so that the children know exactly what they will be learning.

PARTICIPATION – all children take part in all parts of the lesson. Full participation is gained through partner work and choral response.

PASSION – as a staff we are passionate about our teaching and the benefits of the Read, Write Inc. programme! We love teaching the sessions and this enthusiasm rubs off onto the children.
Click on lionk below to find more information and activities for Read Write Inc
http://www.oup.com/oxed/primary/rwi/